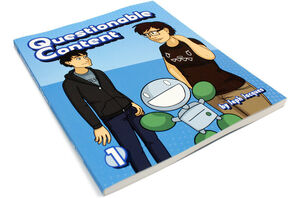 Questionable Content Volume 1 is a book containing the first 299 strips of Questionable Content. It was released by TopatoCo Books in November of 2010 (though the book was put on sale in the third week of October of that year).
Because of the format of the book and because he had lost the original hi-resolution versions, Jeph re-drew nine of the original strips. However, the "lo-res" versions of those nine strips were included in the prologue of the book.
The book features three other "extras":
Commentary for each strip, some of which reflects on the current status of the characters (yes, Sara);
A color version of strip 147 (the entrance of Special Agent Turing, which was originally posted on the web in black and white); and
A mini-comic that he gave away at ConnectiCon 2004 ("the very first convention I ever exhibited at!"). The mini-comic (titled "Let's Go to a Show!") is printed in greyscale.
The ISBN-13 number for Questionable Content Volume 1 (160 pages) is 978-0-9824862-5-2.
Misprint Auction
Edit
In February of 2012, the TopatoCo Company found a grossly-misprinted version of the book in its stock:
So we were at the Topatoco tag sale when friend and Topatoco employee Dave said "hey we found this really weird misprint" and handed me this book! The cover is totally off center, AND the inside of the book is all upside-down! We obviously can't sell it on the site, so I thought "what the heck, I'll put it up on eBay for like a penny and see what happens." So that's what I'm doing! I have signed the inside of the cover and added a lil' doodle of a confused Pintsize as well. If you like weird one-of-a-kind mistake-books, maybe this is the thing for you?
The misprinted book on eBay
was finally sold for an amazing $390 - over 20 times the asking price on the website.